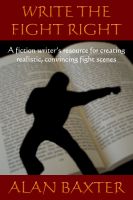 Write the Fight Right
, by Alan Baxter
Published April 4, 2011
Ebook available on
Smashwords
and
Amazon
From the Smashwords page:
"Author and martial arts instructor, Alan Baxter, presents a short, ~12,000 word, ebook describing all the things a writer needs to consider when writing fight scenes. Baxter's experience from decades as a career martial artist make this book a valuable resource for writers who want to understand what fighting is all about - what it really feels like and what does and doesn't work - and how to factor those things into their writing to make their fight scenes visceral, realistic page turners."
Baxter has a number of good pointers and practical tidbits about fighting. "Something unexpected will happen almost immediately" and "Describe the reaction to the hit instead of describing the hit" particularly got my brain moving. I've done a fair amount on research into hand-to-hand combat over the years (he notes, and I'm sure he's right, that taking classes would be better than reading) so I had heard some of the thing he says before. Even so, I found this a good and useful set of pointers.
I wish he had explained more about what "disrupting the opponent's centerline" means and entails. Disrupt how? By hitting? Knocking off balance? Both?
He includes a Cheat Sheet Checklist at the end with the major points -- I'll be using that for quick reference.
For only two dollars, a tasty twelve thousand words of insider information. I don't know what rating system we're using this week, so I'll give this two thumbs up!
ETA: We are using a five weeble system, so I give this 3.5 weebles! Now, as they say "weebles wobble but they don't fall down" but I'm thinking that half a weeble would indeed fall down... that's another post, though.